Events In April, 2022
Paddle 4 Troops
Saturday, April 30th
9:30am Shotgun
Please join us for "THE PADDLE 4 TROOPS HONORS GOLF EVENT" inaugural tournament, on April 30, 2022, located at Olde Point Country Club, Hampstead, North Carolina.
Our first annual "THE PADDLE 4 TROOPS HONORS GOLF EVENT" is a celebration of local military heroes. Each hole will highlight the generosity of our community and celebrate our local heroes we have been honored to support and have touched our lives. This event will include 30 teams of four with a shot gun start and a scramble format.
The P4T Honors Golf Event will offer two Hole in One contests with one offering a prize of $10,000 and the other offering three rounds of golf with a three-night stay at PGA National Resort located in Palm Beach Gardens, Florida. Additional contests will include Longest Drive, Closest to the Pin, and a Putting Competition.
All proceeds will help local military in North Carolina. Please Register Today at: TheP4THonorsGolfEvent.com
For questions about Paddle 4 Troops, our work within the community, or how you can support us, please reach out to me.
Click here to sign up: THE Paddle 4 Troops Honors Golf Event
Very Respectfully,
John Hasting
Smoking Shields Tournament
Friday, April 22nd
9am Shotgun
The Smoking Shields North Carolina Chapter is Hosting a Golf Tournament at Olde Point Country Club in Hampstead!
Friday April 22, 2022
8:00 Check in- 9:00 am Shotgun Start
$80/Smoking Shields Member-Golfer
$95 Non-Shields Member -Golfer
(Price includes 18-Hole Greens and Cart fee, Breakfast, Lunch, Contests, Prizes, Cigars, and Much More!)
$100 / Hole Sponsorships Also Available
Proceeds Going to Smoking Shields NC Philanthropic efforts
The Smoking Shields was established in 2015 to address the lack of a fraternal organization of law enforcement professionals who shared their passion of enjoying premium cigars and a desire to help our nation's heroes.
The Smoking Shields NC purpose is to provide financial assistance to Law Enforcement professionals and our nation's military and their immediate families nationwide.

To register or for additional information contact:
Mark Lobel at Smoking Shields NC 910-270-2059
Steve Gimello at Roccos Cigar Bar 910-686-2446
Olde Point Golf Shop 910-270-2403
Olde Point Country Club and Nineteen Restaurant
513 Country Club Drive – Hampstead Nc 28443
Always Open to The Public!
The Wednesday Evening Golf League Starts May 4th
Two included Practice Rounds If Paid By April 20th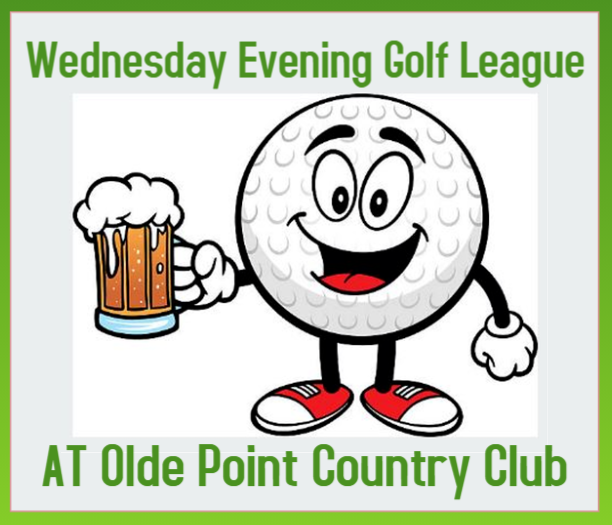 IT'S TIME TO SIGN UP FOR THE WEDNESDAY EVENING GOLF LEAGUE
IF YOU WANT TO PLAY THIS YEAR, CALL THE PRO SHOP AND SIGN UP YOUR TEAM BEFORE WE BOOK UP!
Call Today! (910) 270-2403
Wednesday Evening Golf League Explained…
ATTENTION NEW CHANGE THIS YEAR…
A MAX OF 15 HANDICAP FOR NINE HOLES WILL BE USED FOR SCORING.
2 players per team
$150 per player entry fee
Special 9-hole rate of $17 with cart for weekly match play
Range balls will be provided before play each Wednesday
No established GHIN Handicap required to sign up
League is handicapped to make play competitive for all skill levels
and handicaps adjust weekly for our Modified Match Play format:
Each team has an "A" Player and a "B" Player according to their current established league handicap and weekly matches are predetermined
Each A Player will face the A Player from the other team and each B Player will face the B Player from the other team
Each individual match will be played to earn 1 point for your team
An additional 1 point will be earned by the team in each match
that wins the greatest number of total holes
Season starts May 4th and weekly play starts at
5:30 every Wednesday (with some bye weeks)
through September 7th and the End of season Tournament
on Sunday September 11th
Entry fee includes end of season tournament, Banquet, Prizes,
Comradery Plus2 included practice weeks with payment by April 20th
For more info Check us out here:
https://linktr.ee/Eat_AtNineteen
Nineteen Restaurant (910) 406-1419
@ Olde Point Country Club (910) 270-2403
513 Country Club Drive Hampstead
ALWAYS OPEN TO THE PUBLIC!